Rodents
What are rodents?
Rodents are mammals, part of the order Rodentia, which makes up about 40% of all mammals. Common examples of rodents include mice and rats. All rodents are characterized by a single pair of continuously growing front incisors, found in the upper and lower jaw.
To prevent their teeth from overgrowing, rodents are constantly gnawing on and destroying anything they can get their teeth on. Rodents are prolific breeders and are adaptable. Rodents can successfully live in almost any indoor or outdoor environment. Rodents are found living on every continent except Antarctica.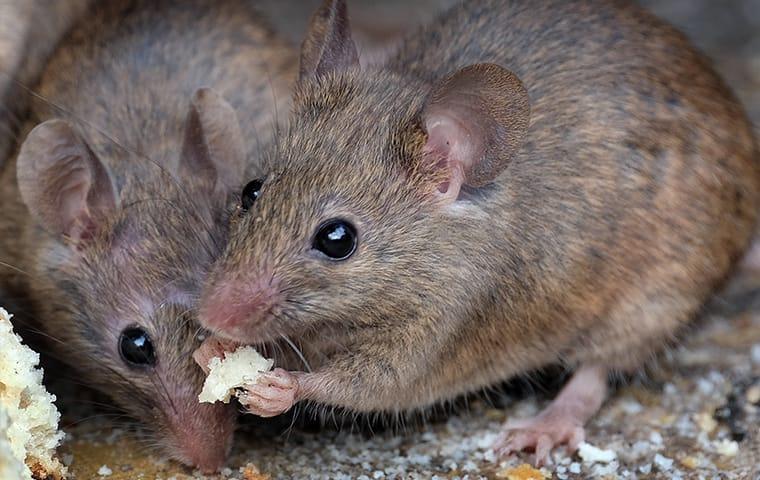 Are rodents dangerous?
Rodents are a definite danger, and should be eliminated from any home or property as quickly as possible. They contaminate food sources and the surfaces of homes with their urine, feces, and saliva. Rodents spread a wide variety of diseases and bacteria including Lymphocytic choriomeningitis (LCM), Hantavirus, dysentery, leptospirosis, and salmonellosis. Rodents also introduce parasites like fleas, mites, and ticks into both residential and commercial properties.

In addition, rodents have the potential to create extensive structural damage. They will chew through and damage furniture, clothing, flooring, drywall, insulation, pictures, walls, and more. Rodents can cause fires and water damage after chewing through wires and pipes.
Why do I have a rodent problem?
Rodents are typically first attracted to the outside of a home by open garbage containers, compost piles, vegetable gardens, fruit trees, bird feeders, and pet food as well as piles of construction debris, fallen trees, woodpiles, and leaf piles that provide them with shelter. Once these pests find their way onto your property, it is only a matter a time before they find their way inside your home while foraging for food and safe shelter. Although rodents can be attracted to properties by many different things, they primarily drawn to properties that provide them with easy access to food, water, and shelter.
Where will I find rodents?
Outside, rodents are found nesting in places that provide them with safe, secluded shelter. Tree stumps, piles of wood or debris, abandoned nests of other small animals, between rocks, underneath foundations, along rivers or ponds, and dense vegetation all make suitable nesting areas for rodents.

Inside homes and other buildings, rodents will choose secluded, out-of-the-way places to make their nests. While they like their privacy, they also like to place their nests near food sources. Rodents often nest in homes behind walls, in crawl spaces, in attics, behind large appliances, underneath sinks, or in the backs of cabinets.
How do I get rid of rodents?
The easiest way to eliminate and control rodent populations is to partner with a professional pest control company. At M.A.D. Exterminators, Inc. we offer the responsive residential pest control and commercial pest control services in Pennsylvania that are needed to stop rodents from living and nesting in homes. Our experienced and highly trained technicians perform thorough inspections. We provide modern treatments to eliminate current rodent problems and prevent future problems with rodents and other common household invaders. To learn more about eliminating rodents from your Montgomery, Bucks, Chester, Berks, Philadelphia, or Delaware County home or business, contact M.A.D. Exterminators, Inc.!
How can I prevent rodents in the future?
Preventing problems with rodents is a difficult task. There are a few preventative measures you can take to keep them out of your home. The following prevention tips may help to deter rodents from choosing your property to live on and from finding their way into your home:
Seal openings found in the foundation & exterior walls of your home.

Seal spaces found around utilities entering your home.

Place covers over vents leading into your home.

Place caps on all your home's chimneys.

Trim tree limbs, shrubs, and bushes away from the exterior of your home.

Remove all trees, tree stumps, and debris from your property.

Make sure that all outdoor trash cans have tight-fitting lids on them.

Place garden areas, wood piles, and compost piles away from the exterior of your home.

Avoid leaving pet food out in between feedings.
Contact Us For Your Quote Today
Complete the form below to schedule your no obligation quote.*
*Free quote does not apply to WDI and Bed Bug inspections