Termites
What are termites?
Termites are social insects that live and work together in large groups. Termites feed on things made of cellulose like tree stumps, fallen trees, structural wood, and wooden fixtures. They are especially attracted to wood that has been previously damaged by water.
A single termite colony can have hundreds of thousands to millions of members in it. Each colony is divided into three different castes, or groups of termites.
Worker termites
Worker termites make up most of a termite colony. Their job is to gather food for the colony. They have soft, creamy-white bodies, are blind, and do not have wings.
Soldier termites
Soldier termites guard the termite colony from danger. They are larger in size than workers, have elongated yellow heads, short legs, and boast large powerful jaws.
King & Queen termites
The reproductive members (kings & queens) of the colony are the largest members. They are dark-brown to black in color, and are the only members that have wings.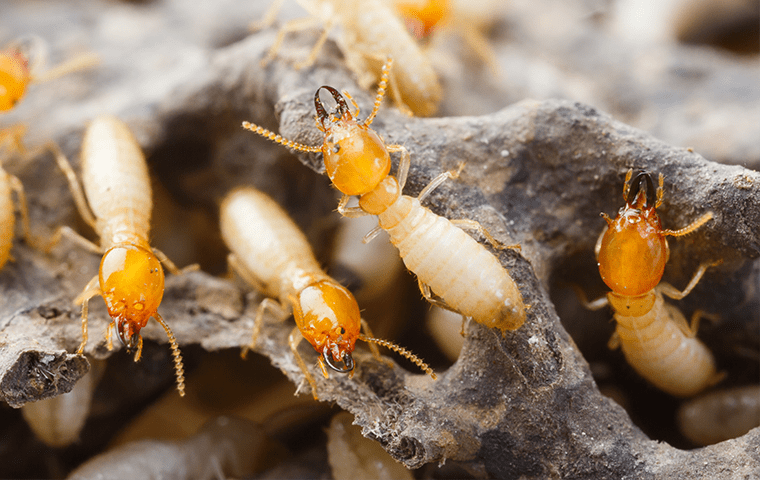 Are termites dangerous?
Termites pose no physical danger to people, they don't bite or sting, and they aren't known to spread diseases. The truth of the matter is that termites rarely come into contact with people. However, termites are dangerous pests, due to their ability to cause significant structural damage to homes and buildings.

Termites that find their way into homes typically invade its structural wood, tunneling through it and gathering food for their colony. If not eliminated in a timely manner, the damage termites cause can become quite extensive and dangerous. Termites also pose a significant danger to people's bank accounts, as their damage is not something that most homeowners' insurance will cover.
Why do I have a termite problem?
Termites are attracted to Montgomery & Chester County properties that offer a suitable place to nest that is close to food sources. Tree stumps, decaying logs, and piles of leaves and mulch can attract termites. Once on your property, they may find their way to moist soil or decaying vegetation that is found around the perimeter of your home.

Termites most often find their way inside homes through soil that comes into direct contact with door frames, deck posts, wood shingles, and porch steps or supports. In addition, they can find their way inside through cracks and crevices in the foundation.

Termites can also find their way onto a property during a termite swarm. If a mature termite colony is located on a nearby property and reproductive termites swarm from it, they may end up on your property.
Where will I find termites?
Termites in our area typically nest in the ground underneath the soil. They do not nest inside of the wood they are feeding on. Worker termites travel back and forth from their underground nest to their food source using underground tunnels, or mud tubes they have created. Inside homes, termites will feed on structural wood found behind walls, above ceilings, and underneath flooring. If the termites are not quickly eliminated and the infestation is allowed to develop, these termites will eventually begin to feed on sound wood, as well as non-wood items like insulation, sub-flooring, and foundations.
How do I get rid of termites?
The most effective way to completely eliminate termites from residential and commercial properties is to partner with a professional pest control company. At M.A.D. Exterminators, Inc. we offer the responsive termite control services in Pennsylvania, needed to get rid of wood-eating termites. Our experienced and highly trained technicians will perform a thorough inspection and provide an estimate. They will then perform advanced treatments that eliminate the entire colony and prevent a re-infestation. To learn more about eradicating termites from your Montgomery, Bucks, Chester, Berks, Philadelphia, or Delaware County home or business, contact M.A.D. Exterminators, Inc.!
How can I prevent termites in the future?
Preventing problems with termites is a difficult task, but there are a few steps you can take.
The following prevention tips can help to deter termites from choosing your property to live on and finding their way into your home:
Remove tree stumps, fallen trees, wood piles, leaf piles, and other debris from your yard & property.

Cut back overgrown landscaping, shrubs, and bushes on your property and trim brush away from the exterior of your home to allow the sun to dry out the soil.

Leave a stone barrier between your home's foundation and any soil or mulch.

Repair clogged gutters and leaky fixtures.

Seal cracks in your home's foundation.

Limit soil-to-wood contact on your property and around your home.

Place weather stripping around all windows and doors.

Remove any water-damaged wood from your property.

Use dehumidifiers to reduce moisture levels in your home.
To learn more about termites and our residential and commercial pest control services in Pennsylvania, including termite control. Reach out to us today!
Contact Us For Your Quote Today
Complete the form below to schedule your no obligation quote.*
*Free quote does not apply to WDI and Bed Bug inspections