Ants
What are ants?
Ants are social insects, living together in large groups, and working together to maintain the health and safety of their colonies. These pests can be identified by their three distinct body regions: the head, thorax, and abdomen, in addition to their antennae. The reproductive members of the colony are the only members that are winged. When the weather gets warmer, those ants will emerge from their mature colonies in order to mate and create new colonies.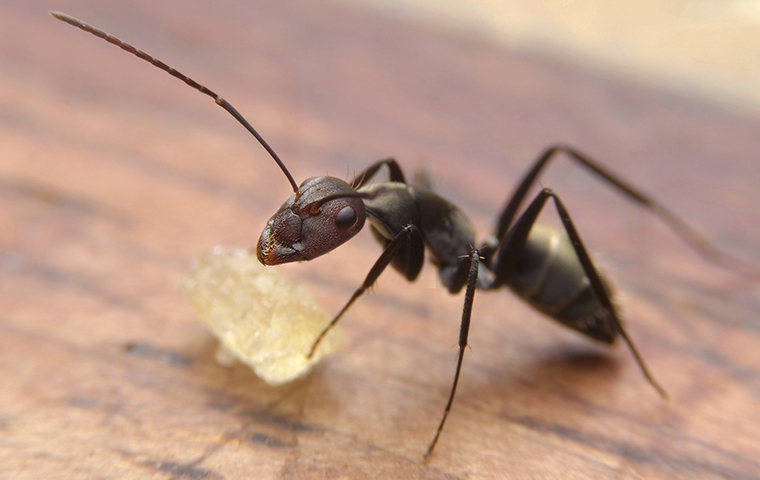 Depending on the specific species, ants can range from small to large. They come in a variety of colors including black, brown, red, and even yellow. The most common species of ants causing trouble for property owners in our area include carpenter ants, sugar ants, and citronella ants.
Carpenter ants
Carpenter ants are large, destructive ants that are known to damage the structural wood of homes and businesses when they invade.
Citronella ants
Citronella ants range in color from light or dark yellow to light brown; these ants received their name from the strong lemon odor that they emit when threatened or crushed.
Sugar ants
Sugar ants are small, black ants that are commonly found invading homes and buildings and are highly attracted to sugar, hence their name.
Are ants dangerous?
Most ants are nuisance ants, invading homes and contaminating food, but causing no major damage or creating health concerns for people. Both citronella and sugar ants are considered to be nuisance ants. However, there are many species in Montgomery & Chester Counties that are considered to be dangerous or destructive. Carpenter ants are a destructive species of ant. When nesting inside homes they can eventually cause significant structural damage.
Why do I have an ant problem?
Ants are drawn to properties that offer easy access to food, water, and shelter. Clogged gutters, open garbage cans, gardens, compost piles, wood piles, dense vegetation, and pet food are all attractive to ants. Once on your property, they can easily find their way into your home while foraging for food through cracks and crevices in exterior walls. They may also invade homes when the weather outside becomes too hot, cold, dry, or wet.
Where will I find ants?
Ants living outside in Montgomery & Chester Counties usually nest underneath soil, under mulch, in piles of wood, in cracks found in pavement and sidewalks, along fence lines, and in garden areas. They also can be found nesting underneath fallen trees, tree limbs, landscaping ties, or inside tree stumps. Both carpenter ants and citronella ants are attracted to wood that has been damaged by water and to areas of high moisture.

Ants that have made their way inside nest under floors, inside insulation, in crawl spaces and wall voids, in structural wood (carpenter ants), and behind large appliances and heating systems. Sugar ants are attracted to sugar and can become a big problem inside kitchens and pantries.
How do I get rid of ants?
The easiest way to eliminate and control ant populations in our area is to partner with a professional pest control company. Here at M.A.D. Exterminators, Inc., we offer the responsive residential pest control services needed to stop ants from living and nesting in and around homes. Our experienced and highly trained technicians perform thorough inspections. They provide modern treatments to eliminate current ant problems and prevent future problems with ants and other common household invaders. To learn more about eliminating ants from your Montgomery, Bucks, Chester, Berks, Philadelphia, or Delaware County home, reach out to us at M.A.D. Exterminators, Inc.!
How can I prevent ants in the future?
Preventing problems with ants is a difficult task, though there are a few steps you can take to prevent them. The following tips may help to deter ants from choosing your property to live on and finding their way into your home:
Trim tree branches, shrubs, and bushes around the outside of your home.

Seal gaps or cracks in the foundation and exterior walls of your home.

Place weather stripping around all exterior windows and doors.

Install door sweeps on all exterior doors.

Use dehumidifiers to reduce moisture levels in your home.

Create a stone or rock barrier between your home's foundation and any soil or mulch.

Make sure that outdoor trash cans have locking lids placed on them.

Place gardens and compost piles a distance away from the outside of your home.
For effective residential and commercial pest control services in Montgomery & Chester Counties, reach out today to get started!
Contact Us For Your Quote Today
Complete the form below to schedule your no obligation quote.*
*Free quote does not apply to WDI and Bed Bug inspections