Bed Bug Service For Your Norristown-Area Home
Although childhood rhymes about bed bugs are meant to be harmless and funny, there is nothing harmless or funny about a bed bug infestation. Bed bugs are parasitic pests that search for a blood meal at night. They can leave itchy bumps and ugly welts on the people they bite. Bed bug eggs are small, translucent to white in color, and are often difficult to detect. Nymphs start off light and translucent as well, but turn brown as they mature. Adult bed bugs are reddish-brown, often resembling flat apple seeds. At all stages, bed bugs can escape notice, as they don't like to be disturbed.

Unfortunately, left undisturbed, bed bugs can reproduce quickly. There are no effective DIY treatments to get rid of bed bug infestations. The more time you waste trying these methods, the larger and more troublesome your infestation may become. Our technicians at M.A.D. Exterminators, Inc. have access to a variety of methods to eradicate bed bugs from your Norristown-area home.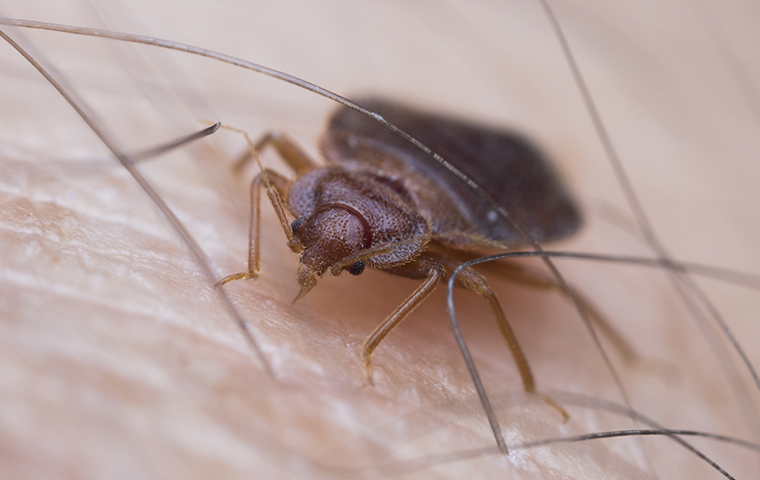 How M.A.D. Exterminators Can Help Eliminate Bed Bugs
Despite what common myths would have you believe, bed bugs are not restricted to dirty homes and cheap motels. In fact, bed bugs don't discriminate.
Bed bugs will hitch a ride or move between locations in any way they can in their search for a blood meal. Wherever there are people, there is the possibility of bed bugs.

At M.A.D Exterminators, Inc., our technicians are licensed experts in bed bug removal. If you suspect you have a problem with bed bugs, it's best to contact us for an inspection right away.
The quicker you can identify a bed bug problem, the easier it is to eliminate.
Our Process
During the inspection process, our technicians will examine your Montgomery county-area home for signs of bed bugs. If detected, we will determine the course of action that is best for removal. Each situation and each home are unique. We consider all options, and include you in the decision-making process.
Our process for bed bug elimination is a simple one.
Inspect

Plan

Treat

Follow up
M.A.D Exterminators, Inc. is a family owned company, and we know that there is no one-size-fits-all method of pest removal. We offer bed bug extermination with effective chemical treatments. This treatments procedure must be followed by both you and by our technicians We will review these carefully with you so the process is as simple and hassle-free as possible.
Our Products
For chemical treatment, there are steps and procedures that must be followed, both by you and by our technicians. With chemical treatment, everyone, including pets, must leave the home during treatment and stay away for about four hours. This process also takes some preparation, and you will be provided with a sheet that guides you through the steps. Chemical treatment is repeated every two weeks for a total length of six weeks. Our technicians attempt to schedule their visits at the same time and on the same day for each treatment. Your entire house is treated to ensure that all bed bugs are eradicated. We offer a 30-day bed bug warranty after the last treatment.
Our Service
We know that dealing with bed bugs can be a frustrating and complicated process. We aim to make the eradication of bed bugs as pain free as possible with our friendly technicians and helpful guides. Please contact us at M.A.D. Exterminators, Inc. if you suspect you have a bed bug problem. If you are near any of our service areas in Montgomery, Berks, Bucks, Chester, Philadelphia or Delaware counties, we will be happy to help you with bed bug removal as well as residential pest control and pest control for your business.
Hard-Working & Dedicated To Meeting Your Needs!
Above all else, we want all of our services to reflect our hard work and dedication to our clients. We don't want you to judge us by our words, but by our actions. If you're ready to find out what our quality pest control services can do for you and your property, contact us! We'd be more than happy to show you what your life could look like without pests.
Contact Us For Your Quote Today
Complete the form below to schedule your no obligation quote.*
*Free quote does not apply to WDI and Bed Bug inspections